Pay Canadian Bills Online: 7 Bills You Can Pay on Africhange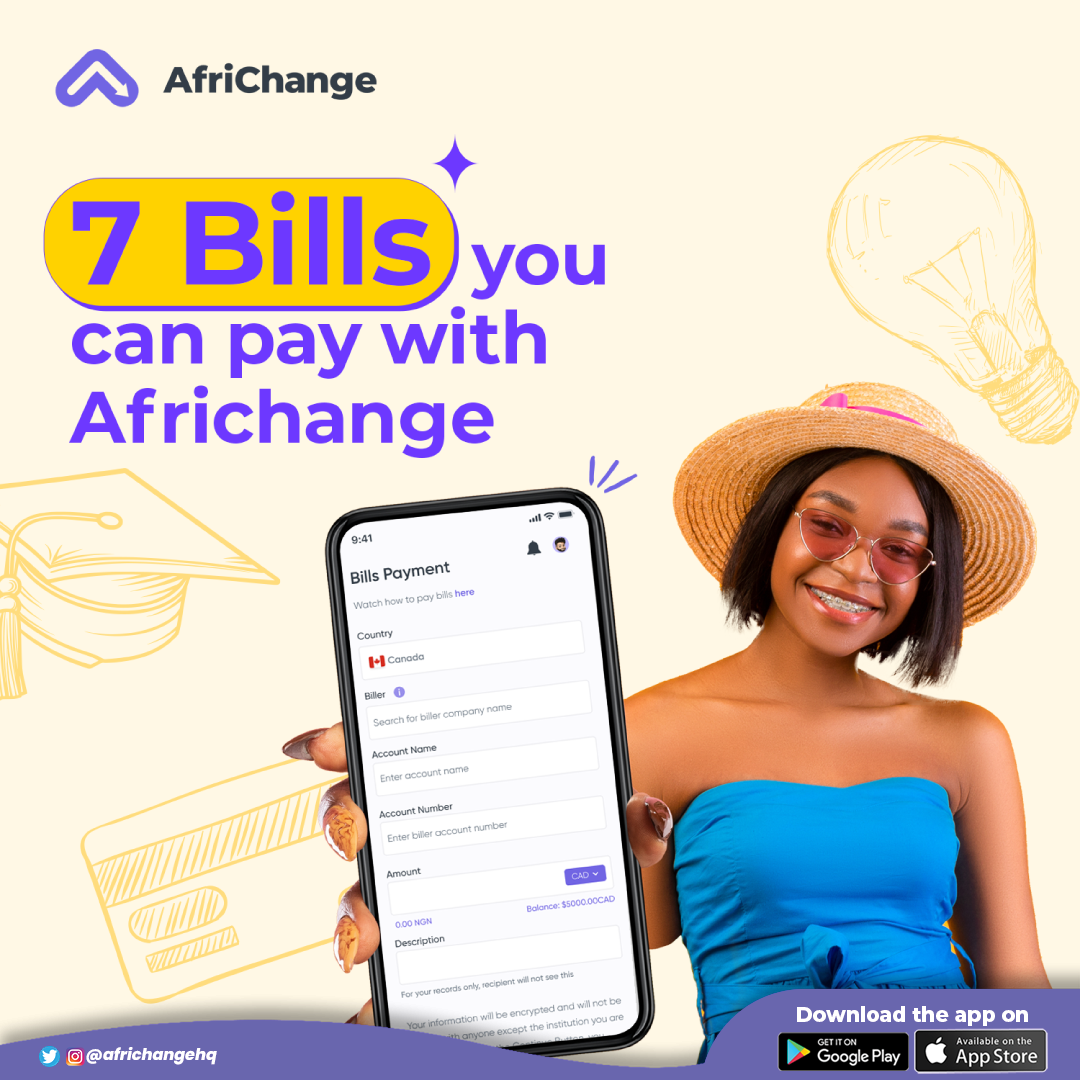 Credit cards, tuition fees, government tax, internet/cellular, insurance, national retailers, and other utilities are some of the many bills Canadians pay regularly. Often, this simple act -bill payment- is overshadowed by an obliqueness of numerous payment methods. To curb this and provide a more convenient process, Africhange offers a one-stop solution for paying your Canadian bills with ease, and the added possibility of your Nigerian friends or family chipping in.

In this article, we'll explain seven (7) Canadian bills you can pay using Africhange and the benefits of doing so.
Credit card payments
To avoid late fees on unpaid bills and to build positive credit scores, you should pay off your credit card bills using Africhange. These bills when accrued can cause higher interest rates, negative credit scores, financial stress, instability, and estranged relationships with credit companies.

Tuition fees
Paying for your education is far too important and equally expensive to risk uncertain payment platforms. This is why Africhange offers you the opportunity to make full (or part) tuition payments for any Canadian school of your choice listed on the platform. And even better? You can pay from Nigeria using the best rates.

Government/Tax bills
Paying your government or territorial tax bills on Africhange is a simple way to steer clear of tax evasion and potential penalties for non-compliance. What's more, it opens the door to valuable reward programs like child benefits and other goods and services tax credits. Embracing this convenient approach ensures you enjoy the full range of benefits that come with fulfilling your tax obligations.

Cellular and Internet services
Cell phone and internet bills are frequent forms of bill payment and whether it is a prorated talk, text, or data plan or an unlimited one, you can handle all your mobile surcharges with ease on Africhange. This way you are able to stream, browse, and stay connected without any interruption.

Insurance payment
If you practice good financial habits, then you know the importance of timely insurance payments. Whether it is life insurance, auto insurance, or property insurance, utilizing Africhange for your insurance payments ensures your policies remain active, giving you a much needed peace of mind.

National Retailers
Africhange also provides easy payments to bills relating to your various subscription needs like Calgary Sun, Ottawa Citizen, etc., and numerous shopping retailers like Walmart, Canadian Tire, and so much more. If you need to pay for a Canadian retailer service, you might as well check Africhange.

Utilities
Save time, avoid stress, and experience the bright side of life when you manage your utilities like electricity, heating, water, and gas bills on Africhange. This way you are able to run your home effectively from the comfort of your phone.

In conclusion, utilizing Africhange for your bill payment will not only give you better control of your finances but also improve your life and well-being in general. Remember, you can always send money and receive money in Canada, Nigeria, Australia, Ghana, Kenya, and other African countries at the best rates with Africhange. To learn more, click HERE.