Make Money Online: Refer and Earn CAD 20 on Africhange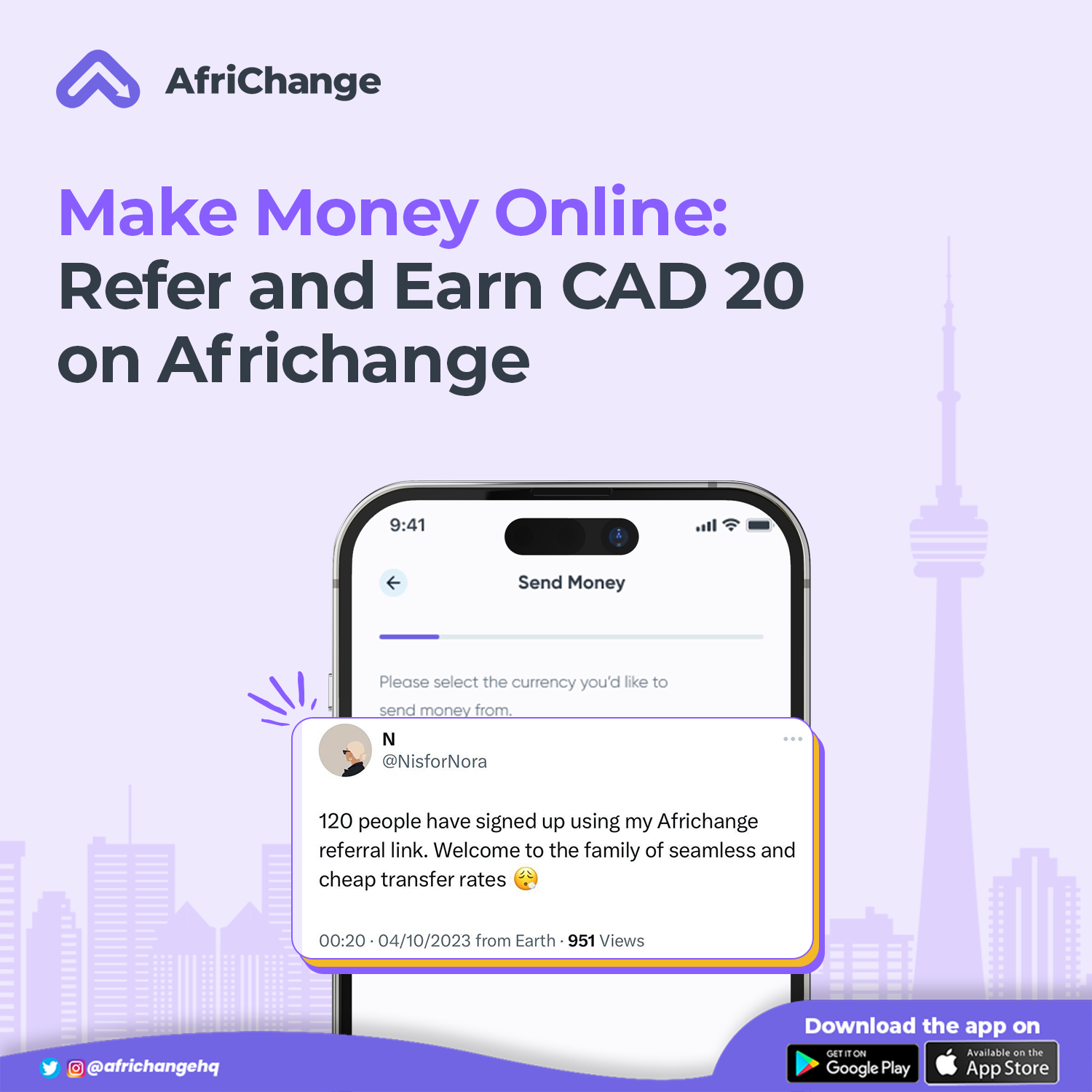 Referral programs are one of many ways to make money online. They provide you with an easy and secure way to share your reviews, experiences, and recommendations about a service or product with others. And sometimes earn a commission or reward in return.
In Africhange, our referral program gives you the opportunity to earn Canadian dollars for yourself when you refer your friends, family members, and even business contacts to Africhange, and for your referrals who complete a transaction. It also provides you with front-row access to our events, activities, and promotional campaigns.

How to Earn 20 CAD for Every Successful Referral on Africhange
Download Africhange from your Play Store, or App Store, or visit our website here.
Login to your Africhange account on mobile and click on the Referral icon at the lower right.
Copy your Referral code and share with your family and friends, encouraging them to use when signing up on Africhange.
Lastly, your referral is only successful when they complete an initial transaction of at least 400 CAD.

How do I get thousands of referrals?
One effective way to unlock hundreds and possibly thousands of referrals is by harnessing the power of social media. Tweets or threads on the benefits of using Africhange to send or receive money are very effective. If you're feeling brave, you can equally make videos on X (formerly Twitter), Instagram, TikTok, etc., sharing your experiences and why you prefer Africhange. Don't forget to insert your referral link and tag us, we might repost at our discretion.
Another effective yet creative way that's a little old-school is to print your referral link on cards and share it with people alongside compliments like; 'Here's 20 CAD to brighten up your day'. And on the flip side of the card, you outline the steps to claiming it including your referral link.

How do I receive my 20 CAD referral reward?
To receive your Africhange referral reward, your referee (in this case, the person you refer) must first complete an initial transaction of at least 400 CAD. Once done, you will each receive 20 CAD in your Africhange wallet. If you are yet to receive your reward, kindly email us at support@africhange.com.

How many people can I refer to Africhange?
You can refer as many people as you want to Africhange for 20 CAD per referral. Again, your referrals have to sign up with your link and complete an initial transaction of 400 CAD minimum in order to count. Also, we reserve the right to suspend referrals if we sense a misuse of the program.

Summary
As a business, your recommendations means the world to us, far more than any paid advertisement. Your trust in us speaks volumes and motivates us to continually improve. Through our referral program, we are able to express our gratitude for your confidence and loyalty. We encourage you to take advantage of it today.

Africhange is a cross-border remittance service that creates financial support systems for immigrants in Canada, Australia, and their families back home in Nigeria, Ghana, Kenya, and other African countries to send and receive money, pay bills, as well as carry out numerous financial transactions seamlessly at the best rates. To learn more, click HERE.