Incident Report: NGN Virtual Account Funding Delay (April 29 - May 6 2023)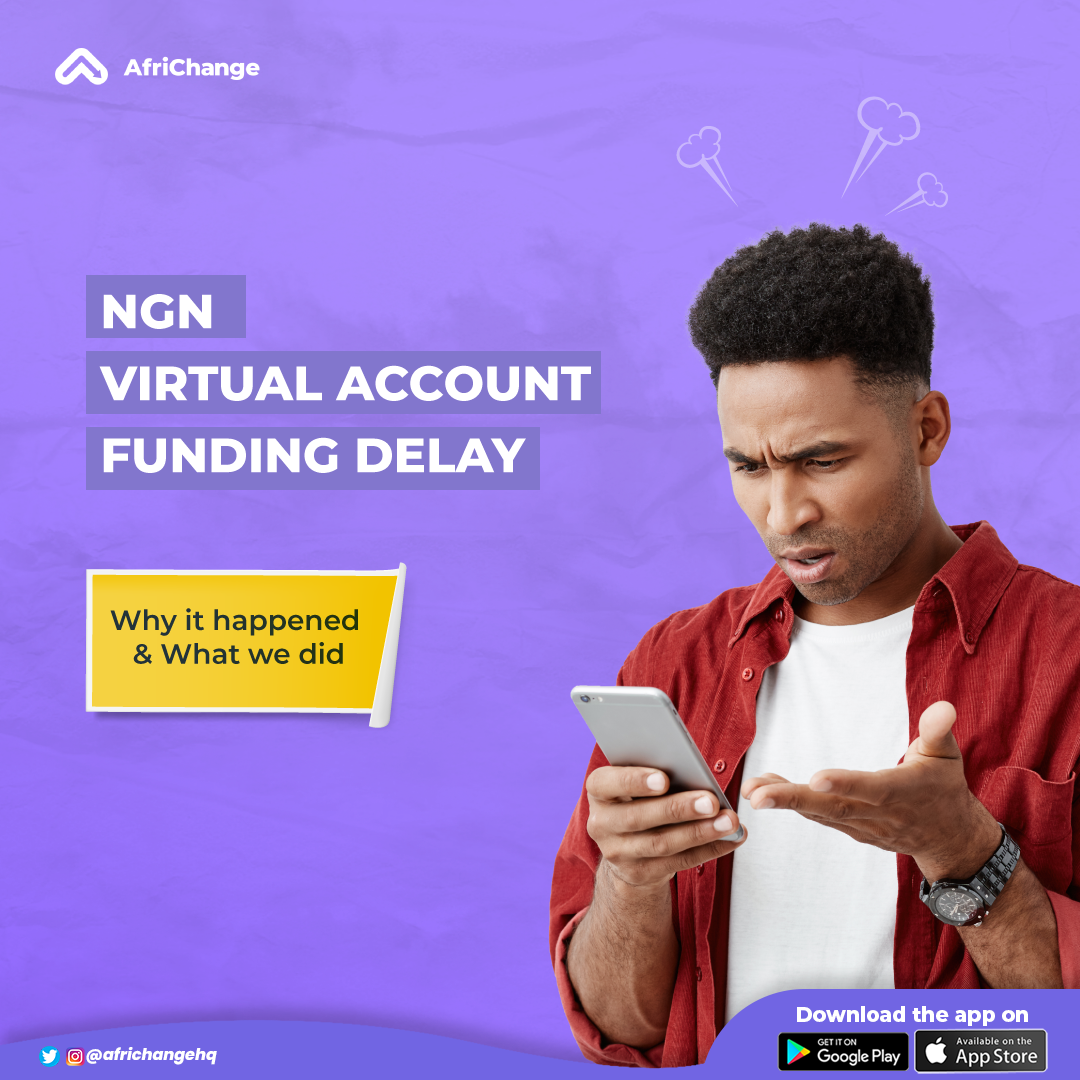 Brief Overview
Over the weekend of April 29 - May 3  2023, our partner bank experienced technical issues that affected incoming NGN deposits to virtual accounts. This unprecedented delay resulted in an unpleasant user experience for our Africhange users and eventually us during the reconciliation of the affected users. Here, we have outlined a detailed report of the situation, the root cause, the timeline breakdown, the actions taken to resolve and preemptive measures to guard against future occurrences. Lastly, the lessons learned,  and our promise to do better.
Root cause of the event- A technical issue with our Nigerian banking partner
Usually, Africhange users are able to generate a virtual account on their Africhange app which they fund by making transfers using their local bank app or service provider. Payments to this virtual account are first confirmed by the local bank, and our Nigerian banking partner before being allocated to us. Unfortunately, due to the technical downtime of our service partners, we never received the funds even though some of our users were successfully debited.

Event Timeline Breakdown
April 29- May 1 2023.
Some Nigerian users began reporting unusual delays in receiving their deposits which they sent to their Africhange Wema virtual accounts.
Immediately, our customer support initiated investigative measures and escalated to our technical team which discovered that our banking partners were experiencing technical difficulties on their service.
Although this was a weekend with a Nigerian public holiday, our banking partner was immediately contacted and urged to begin resolution.
May 2 - May 5 2023
Our banking partner reported that the technical issues were resolved and users could now fund their wallets. The situation was closely monitored by our customer support and confirmed.
May 5 - May 12 2023
Reconciliation of pending transactions began as affected users were urged to fill their transaction session ID, account number and proof of payment in the Transaction report sheet.

Actions taken to resolve this
On May 3, 2023, we published an important notice across our social media channels informing our users of the situation, equally we sent out emails and a push notification telling users to not fund their Wema accounts.
A Transaction Report sheet was also created and affected users urged to contact their banks for their 30-digit session ID, account number and proof of payment.
This sheet is being shared with our banking partner and 99% of users have received their payments.


Preemptive measures to guard against future occurrences
To guard against future occurrences, we have made some changes to NGN virtual accounts and users are please advised not to fund their Wema virtual accounts. Kindly update your mobile application or use the  Africhange web to generate your new virtual account.
We have also implemented enhanced monitoring of our NGN virtual wallets to quickly detect any issue arising to funding. It is important to point out that while Africhange handles cross border remittances, we are not a bank and do not have total control of how the Nigerian banking systems would affect NGN transfers.
Also, we are improving our communication processes and dedicating more resources to ensure that users receive timely updates of service disruptions through in-app notifications, emails and social media engagement strategies.

Commitment to customer satisfaction
As a growing business, we take issues of customer satisfaction seriously and take no pleasure in seeing our users complain, this in fact breaks our hearts. We are a safe and registered business, fully compliant with FINTRAC and other international regulatory bodies. Our commitment to our users is fundamental and entrenched in our strive for growth. We will continue to work tirelessly to prevent future incidents like this from occurring.
Conclusion
The April 29- May 6 2023 delay in NGN Transactions was an unforeseen incident caused by technical issues from our bank partners. This greatly impacted our users ability to initiate fundamental transactions including but not limited to feeding, rent payment, fees payment and a lot more. We understand the implications of this even to our brand and will work hard to earn back your support. We also sincerely regret this experience and express our heartfelt apology to every affected Africhange user.

Thank you for your patience and unwavering support.  

We would like to reiterate that if you are yet to receive your funds, kindly fill in your details here and contact us on support@africhange.com. We are ensuring that everyone gets a timely response and resolution.