Best way to send money from Canada to Mexico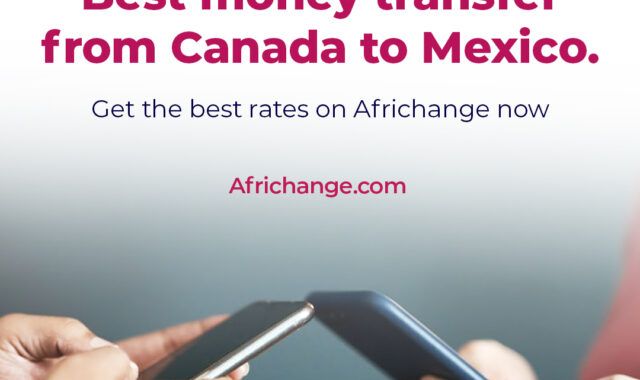 Sending money to Mexico is something you have to deal with regularly if you run a business within the country or if you have got family and friends who reside there.  As an individual experienced in money transfers to Mexico, you almost certainly know that the money transfer charges vary greatly – from zero to over 100 dollars for a 1,000 dollars transfer. Why pay heavy charges to transfer money from Canada to Mexico when you can transfer money with Africhange for next to nothing?
Africhange: the simplest way to Send Money from Canada to Mexico Online
Africhange understands the challenges Canadian residents face when sending money to Mexico and have provided a platform that allows people to send CAD to any bank in Mexico by using blockchain to enable fast settlement of transfers and enable low fees.
How does it work?
Register for Free: Create and confirm your Africhange account
Verify your Identity: Fill the KYC form to verify your Identity. This helps to prevent fraud and comply with KYC and AML regulations.
Send Money: Initiate and confirm your transaction by inputting how much you want to send and see the exchange rate. Transfer funds with Interac E-Transfer to transfer@africhange.com and confirm recipient details.
Get Confirmation: Wait for confirmation email from Africhange. This will take less than 5 Mins.
That's it: Africhange will handle the rest. You can track your transfer in your account dashboard.
How to send CAD with Africhange
Login your Afichange account and input the amount CAD you want to send. On the second field, select MXN on the drop down menu. You will see the MXN equivalent of the CAD you want to send. Click Next.
Enter the recipient's details in the fields displayed and then click Next.
Send funds with Interac e-transfer with the details provided then click next. An email will be sent to you confirming that your transaction has been initiated while your transaction summary transaction summary is displayed. Click Next.
A confirmation page will be displayed, informing you that your transaction has been submitted successfully.
Africhange will handle the rest from there. You can track your transfer status in your account dashboard.
Make sure to follow us on Instagram & Twitter for updates, and if you have questions send a message to Ada at support@africhange.com
Visit www.Africhange.com to try it out now!